Top Teams 2021:
Tandengoud Team € 78,587
Rozebloemen € 1,429


---
Top Fundraisers 2021:
Go out for dinner, have a wonderful evening and help researchers fight breast cancer! One night, one focus. Join us! (The Netherlands)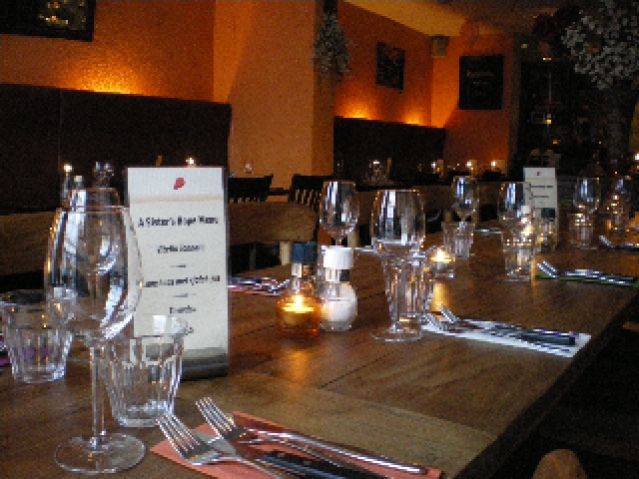 Bite Back means to Fight Back. This is as simple as it can get: go out to eat on Wednesday, March 25, at a restaurant participating in Bite Back at Breast Cancer and you will be supporting research aimed at saving lives. You pay the same amount for your meal as you would pay any other night; the restaurant is the one making a donation to research. The more people dining in these restaurants that night, the more money raised for research. Of course, you can make an extra donation while you are there, or buy merchandise of A Sister\'s Hope, but that is not mandatory. All you really have to do is enjoy a nice meal at a nice restaurant that wants to do its part for charity. Simple, right? Contact the restaurant and make a reservation. They do fill up on this night. Mark your calendars now and invite your friends, family and co-workers to help Bite Back! We will hold this event in the United States soon. If you know of a restaurant that might want to participate, please contact us at Info@ASistersHope.org. We would love to hear from you!


Event: Go out for dinner, have a wonderful evening and help researchers fight breast cancer! One night, one focus. Join us!
Date: Wednesday, March 25 2015
Start Time: 5:00 pm

Location: Amsterdam
Directions:
map it
Address:
City: Multiple cities
State/Province:
Country: The Netherlands

Restaurants choose to work with A Sister\'s Hope on Wednesday, March 25, to Bite Back at Breast Cancer.

* This restaurant will donate an amount from their sales that evening to make more and better research possible.
* Mark your calendar for this evening and go out to eat with your family, friends and colleagues at one of these restaurants!
* Your dinner costs the same as it would any other night and a portion of the money is going to scientific breast cancer research. The more people who go out to eat, the more money raised!

Reserve your spot for a cozy evening dining out at Baan Thai and support this mission to end breast cancer!

Participating restaurant:
Baan Thai, 020 675 6632, Amstelveenseweg 83, 1075 Amsterdam - Wednesday, March 25