Top Teams 2023:
Team Tandengoud € 69,796
Anne Kaal € 880
Borstbelang € 500
DHL SSC Maastricht € 285


---

Top Fundraisers 2023:
Vera Birkhoff € 700
Marianne Spaltman € 46


40K Walk**NEW** (The Netherlands)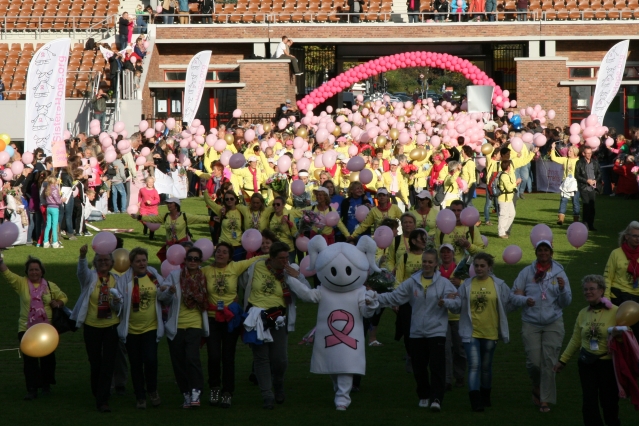 Take a walk with us for a reason. We are going to travel 40 kilometers, by foot, through the beauty of The Netherlands landscape. We are going to do something more, something bigger, in the battle with breast cancer.


Event: 40K Walk**NEW**
Start Date: Saturday, October 3 2015
Finish Date: Sunday, October 4 2015
Start Time: 10.00 uur

Location: Nederland
Directions:
map it
Address:
City: Amersfoort
State/Province:
Country: The Netherlands

Registration Fee: $60 (U.S. Dollars)
Minimum Donation Amount Required: $900 (U.S. Dollars)

Choose Your Challenge:

A. Walk 40K in one day

B. Walk 40K over two days = 20K per day


Route:
The 40K route begins Saturday, October 3, in Amersfoort, The Netherlands. The first 20K leads participants into the beautiful, historic streets of Utrecht. For participants choosing a two-day adventure, the 20K walk will end at the same point in Utrecht where there will be a party with music, drinks and snacks. For participants choosing to walk 40K all on the first day, the turnaround point is in Utrecht and you will check in at the midway point before making your way back along the scenic footpath to Amersfoort.

Fun pit stops and toilets will meet the needs of all participants along the route, and on Sunday afternoon, a finale celebration with family and friends at the end point in Amersfoort caps the weekend.

The Challenge is two-fold: the physical and the fundraising.

Each walker must raise a minimum of $900 in donations to be part of the October 3-4 weekend. Donations can be made by your supporters via the ASH website where you can set up your own participant page and send your donors to that page. You can track your donations anytime and top fundraisers are listed on the website!

CORPORATE TEAMS
1. A corporate team of 10 (max 12) is 7500 euro. Team members can be combination of walkers/1 day/2 days. If team has 12 participants, donation amount is still only 7500 euro.
2. Corporate logo appears on Corporate Team Page which will be added to the ASH website.
3. Corporate teams will receive personalized event shirts with large company logo on back of event shirts. (If a specific color shirt is desired, that can be arranged.)
4. Corporate teams will see their 3-meter x 1-meter company banners at two spots along the route each of the two days. (Company can choose start/finish or pit stops/cheering stations. A Sister\\\\\\\\\\\\\\\'s Hope produces and covers cost of banners).

Whether you are walking one day or two, we are happy to have you with us on this mission to help researchers find a cure. Get registered TODAY!