Top Teams 2021:
Tandengoud Team € 78,587
Rozebloemen € 1,429


---
Top Fundraisers 2021:
Pink Moon Run & Walk - Jackson (USA)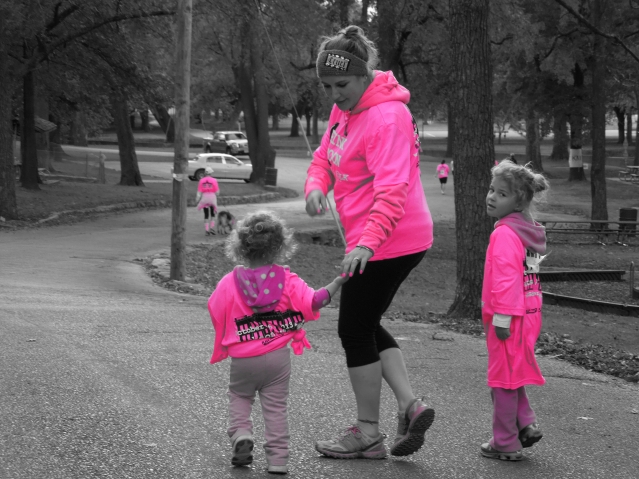 Adding a pink glow to the night! As always, all participants receive pink glow sticks for the adventure. The Pink Moon leads participants from the 1908 limestone courthouse along the rolling streets of downtown Jackson, winding next to Hubble Creek and throughout the beautiful city park, including a peaceful circling of Rotary Lake. Walkers/runners finish down High Street to the cheering of family and friends and into a pink spotlight shining on those who give a sister hope.


Evenement: Pink Moon Run & Walk - Jackson
Datum: Zaterdag, 1 November 2014
Starttijd: 5:00 pm

Start Locatie: Cape County Courthouse
Routebeschrijving:
map it
Adres: 1 Barton Square
Stad: Jackson
Provincie: MO
Land: USA

Pink Glow Sticks for All!

Gorgeous long-sleeve event shirts, glow sticks and a special surprise at check-in guaranteed for those who register and pay the entry fee before October 13.

This run/walk is held for one reason: to raise funds for charity. Aside from the cost of t-shirts and minimal marketing costs, 100% of your donations actually go to charity.

There is no paid production team. There is no paid staff. There are no overhead administrative fees. The event is HELD SOLELY FOR CHARITABLE PURPOSES.

For the first time, other charities can benefit from the Pink Moon by getting their supporters to register for the walk or run. Charities currently include Hoops for Life, the Howard Aslinger Foundation and Bollinger County Stray Project, and a few others will be added. If you are participating on behalf of one of these charities, you MUST enter the charity's name on the registration form where it says "I heard about Pink Moon: ________" $10 of each registration with an official Pink Moon charity listed in that space will go to that charity. If you know of a local charity that should be considered, please contact me at Info@ASistersHope.org.

While the event also increases/maintains awareness about breast cancer, its primary purpose is to raise the funding researchers need to make significant progress in finding better treatments and a cure. The registration fee is $38 per adult. We encourage each participant to raise additional donations and bring them with you to the event to further fund vital research.

* 5:00 pm Welcome & 8K Walk
* 5:45 pm 8K Run
* 7:00 pm Awards Presentation (time is approximate)

Details on projects funded by A Sister's Hope can be found on the "Research Funded" page of our website.

We come together under the PINK MOON to help researchers find better treatments and a cure for breast cancer (and now to also help other local charities that are important to the community).

Pink Moon Run & Walk is organized by A Sister's Hope, a registered 501(c)(3) non-profit organization. Donations can be made online via the website, or checks can be made out to "A Sister's Hope" and mailed to A Sister's Hope, Attn: C Sides, 477 Marble Lane, Jackson, MO 63755.




LOCATIE:

Cape County Courthouse
Meer informatie over Cape County Courthouse


SPONSORS:
Plaza Tire Service
TNT Fitness