Top Teams 2020:
Rozebloemen € 1,069
Team with a Mission € 57


---

Top Fundraisers 2020:
Ria Vermeulen € 500
Vera Birkhoff € 325
Monique Van den Hoek € 103
Marion Pol-Westerlaken € 35
Astrid Caten € 20


Bite Back at Breast Cancer (Nederland)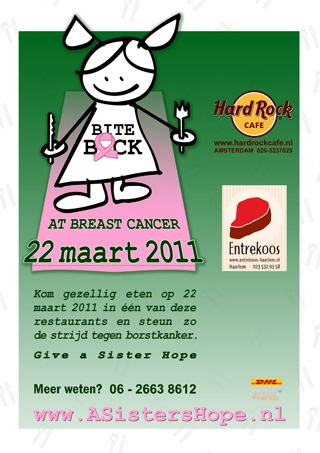 Restaurants uit verschillende steden sluiten zich een dinsdagavond in 2013 bij ons aan, wij promoten deze avond en zorgen dat de restaurants op deze avond zo goed mogelijk bezet zijn. De mensen die komen eten in het deelnemende restaurant betalen gewoon voor het diner dat zij eten die avond. De restaurants commiteren zich aan een bepaald bedrag dat naar het goede doel gaat. Dus heb je nog iets te vieren en wil je meehelpen om geld bijeen te brengen voor meer en beter onderzoek naar borstkanker? Reserveer dan in 2013 bij een van de restaurants. De deelnemende restaurants zullen binnenkort op onze website worden vermeld.


Evenement: Bite Back at Breast Cancer
Datum: Vrijdag, 30 November 2012
Starttijd: To Be Determined

Start Locatie: To Be Determined
Routebeschrijving:
map it
Adres:
Stad: Multiple Cities
Provincie:
Land: Nederland

Bite Back at Breast Cancer is a way for restaurant owners and diners to join forces in a unique way to help fund research.